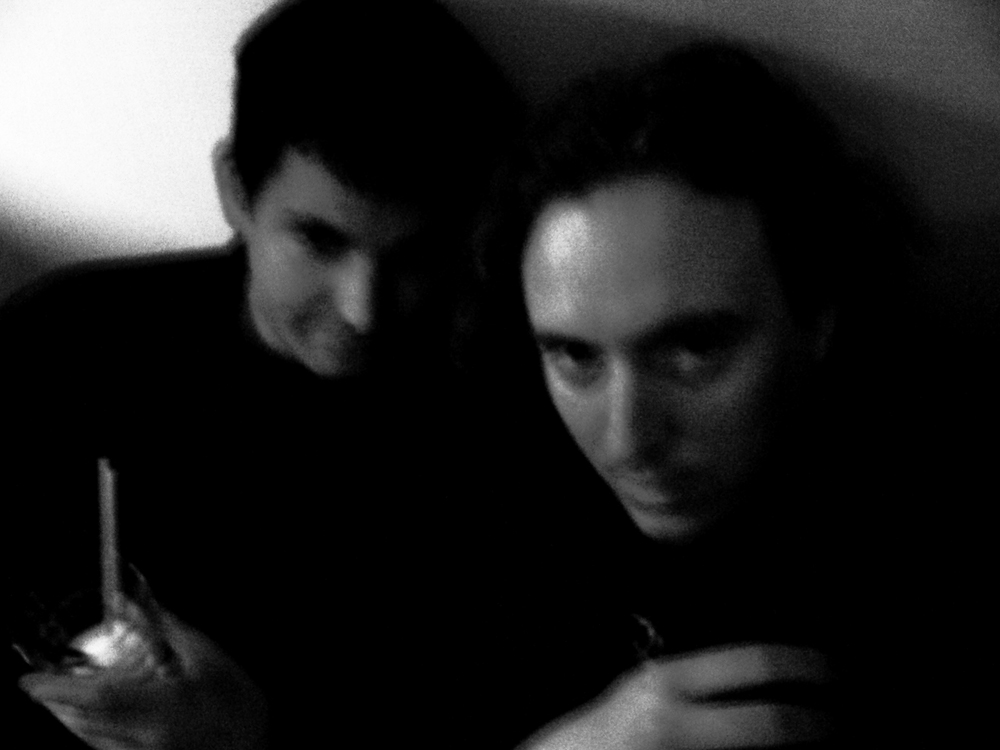 2nd January 2018
New Concert
6th January Lido / Berlin
Tribute to David Bowie
we will perfom circa 10 songs
New CD-Release Date
2nd February 2018
"CARGO"
23rd December 2017
our new Christmastune
"Hark! the Herald Angel sing"
added to our soundcloud account
26th May 2017
live in Brandenburg
Privat-Concert
4th Feburary 2017
We will compose and performe the score for
the movie
"CARGO"
20th January 2017
live at Stroetmann Fabrik / Emsdetten
14th January 2017
Live at Theater de Enck / Oirschot / The Netherlands
8th January 2017
live at Lido / Berlin
Tribute to David Bowie
23rd December 2016
Wishing you a wonderful winter solstice
Some news and a fine tradition
Like every year we recorded a Christmas/Winter Solstice-Tune
(First 100Download for free/Christmas-gift)
What Child is this?
Soundcloud
ReverbNation
Together with last years Fairytale of New York it will be added to our
"Next year, we may all be many miles away"
- music for the winter solstice -
Album
on 24th December
3rd December 2016
Picture Palace music live in Rastatt
18th November 2016
New Concert Dates
1st October 2016
Picture Palace music
live at
Lindenpark / Potsdam
16th September 2016
Picture Palace music
live at
Hangar 49 / Berlin
15th September 2016
New Dates
10th June 2016
"Midsummer´s Day" Live 2016
added to our Soundcloud-Page
28th May 2016
Picture Palace music
live
at Planetarium Bochum
12th March 2016Picture Palace musicliveat "Dufte" / Berlin4th March 2016New Dates-&gt DATESPicture Palace musicwill play at"Dufte"Berlin / Neukoellnsupporting"Wortblind"on12th March 201625th February 2016Picture Palace musiclive atLIDODavid-Bowie Tribute6th February 2016new Concert Date-&gt DATESThorsten Quaeschning´s Picture Palace musicinlcuding some very special guestswill join the "Tribute to David Bowie"-FestivalwithPeter from the Test Tube BabiesGreta Brinkman (Debbie Harry Band, moby)Mark Standley (Sigue Sigue Sputnik) on25th February 2016atLidoBerlin30th January 2016Thorsten Quaeschning´s Picture Palace musicConcert&Tangerine DreamUlrich SchnaussHoshiko Yamane"The art of how to dream"VernissageHaus der Berliner Festspiele29th January 2016 "Letters from Libya"Film by Andreas BernhardtMusic byThorsten Quaeschning's Picture Palace musicFilmtheater UnionFuerstenwalde28th January 2016Picture Palace music are nominated for the"Schallwelle Award" Best Artist 2015&Best Song 201523rd January 2016 "Letters from Libya"Film by Andreas BernhardtMusic byThorsten Quaeschning's Picture Palace musicBreitenseer LichtspieleWien18.30h22nd January 2016 "Letters from Libya"Film by Andreas BernhardtMusic byThorsten Quaeschning's Picture Palace musicKulturzentrum E-WerkErlangen18hMaxim KinoMuenchen18h20th January 2016New music on Soundcloud"to take a bow"https://soundcloud.com/picture-palace-music/to-bow-down?fb_action_ids=10154036914008984&fb_action_types=soundcloud%3Apublish8th January 2016 "Letters from Libya"Film by Andreas BernhardtMusic byThorsten Quaeschning's Picture Palace musicBabylon / MitteBerlin20h1st December 2016Happy New Yearhttps://soundcloud.com/picture-palace-music/auld-lang-syne21st December 2015Merry Christmas!new Christmas-Tune on Soundcloud & Reverbnation"Fairytale of New York"https://soundcloud.com/picture-palace-music/fairytale-of-new-york?fb_action_ids=10153961908418984&fb_action_types=soundcloud%3Apublishhttps://www.reverbnation.com/picturepalacemusic24th Octobernew DatePicture Palace music&Ulrich Schnauss"Das Bett"Frankfurt25th November 20158th October 2015newPicture Palace music & "Adam Is A Girl"Live ConcertZoschBerlin17th October 201529th March 2015Picture Palace musicReVisionElectronic Post Rock - the first decadeadded to our DOWNLOAD-SECTION21st March 2015Schallwelle Award 2014"Best Song 2014"Winner : #1 : Picture Palace music - Sleepwalking Marathon (is not Olympic)&Picture Palace musicConcertPlanetarium BochumSchallwelle Award&Schallwelle Award 2014Best german Artist / Band 2014:(#2 Tangerine Dream)#3 : Picture Palace music&Schallwelle AwardBest german CD(#1 : Tangerine Dream - Phaedra Farewell Tour)#4 Picture Palace music - ReVision(#5 : Tangerine Dream - Sorcerer 2014)28th February 2014:Picture Palace musicConcertwith Suddenly HumanChesters In / Berlin / Germany27th February 2015Picture Palace musicConcertsupporting Ulrich SchnaussOslo -Hackney / London / UK11st February 2015New DatesLondon: 2015-02-2728th January 2015New DatesBerlin: 2015-02-28&Concert-Tickets added to our Shop-Section20th January 2015It's incredible and fanthomless sad.I can´t even realize it.My greatest teacher, master, colleague and friend - Edgar Froese passed away on January 20th.He was the most inspiring and wisest person I have ever met.It´s a huge loss.(Thorsten Quaeschning)21st December 2014Ho Ho Ho and Merry Christmas!Picture Palace musicfeat. Helen Pfaff"In the bleak midwinter"added to our Download-Section -&gt Shop18th December 2014Picture Palace musicAcosutic-ConcertSzimpla Badehaus / Berlin14th December 2014Picture Palace musicfeat. Helen Pfaff"White Christmas"added to our Download-Section -&gt Shop22nd August 2014Picture Palace musicConcertBerlinKaffee Burger15th August 2014T-Shirts and Drumsticks added to our Shop - Sction11th August 2014Picture Palace musicConcertDortmundSummerlake - ConcertSecret Gig10th August 2014Picture Palace musicConcertMonschauBurg MonschauSupport for Alan Parsons Live Project9th August 2014Picture Palace musicConcertCalwKlostersommer in HirsauSupport for Alan Parsons Live Project8th August 2014Picture Palace musicConcertSchwetzingenMusik im Park - FestivalSupport for Alan Parsons Live Project7th August 2014Picture Palace musicConcertSecret Gig Frankfurt am Main1st August 2014the new Picture Palace music - Release"ReVision"- Electronic Post Rock - The First Decade -added to our ShopPicture Palace musicWarmUp-ConcertClubs MuehleBerlin22nd July 2014New Concerts added to our Dates-Section12th July 2014New Concerts added to our Dates-Section5th June 2014"Letters from Libya"with Original-SoundtrackbyThorsten Quaeschning´sPicture Palace music Moviemento Berlin26th May 2014"Letters from Libya" Original Soundtrackwill be released in July / August 2014at Groove-Unlimited NL18th May 2014"Letters from Libya" - PREMIEREwith Original-SoundtrackbyThorsten Quaeschning´sPicture Palace music Moviemento Berlin16th February 2014"Remnants" added to our Download-Section -&gt Shop1st January 2014Happy New Year !PPm - 2013 Résumé:Synths don´t lieConcerts:Summertime Madness / Village-Church / QualitzSummertime Madness / Kaffee Burger / BerlinSummertime Madness / Raven / StraubingShaking World & Woods / Wald&Welt-Festival / EggerszellUnity Con Sequences / Stadtfest / TeltowRemnants / Planetarium am Insulaner / BerlinIndulging the Mode / Paulus Kultur Kirche / DortmundRemnants / LWL-Planetarium / MuensterRemnants / Zeiss-Planetarium / JenaHello 2014 / Planetarium / BochumCD-Releases:Remnants22nd December 2013Sirs, Madams, "Freunde der Nacht", Weihnachtsmenschen & Reindeers.We wish you a very merry Christmas and a wonderful winter-solstice !Here is our new Christmas-Tune 2013https://www.facebook.com/pages/Picture-Palace-music/205962576113632?id=205962576113632&sk=app_178091127385free download until January 2014.- - - - - - - - - - - - -God rest ye merry, Gentlemen 2013"Next year, we may all be many miles away"- music for the winter solstice -Thorsten "Q" QuaeschningSynthesizer, Vocals, Guitar, Darbuka, DjembeChris HauslVocals Vanessa O.Cello07th November 2013Thorsten Quaeschning´sPicture Palace music"Remnants"CD added to our shop & discography"Remnants"Info addednew Dates04th October 2013Picture Palace music liveTeltower Stadtfest / Teltow03rd August 2013Picture Palace music liveWald & Welt -Festival / Eggerszell02nd August 2013Picture Palace music liveRaven / Straubing31th July 2013Picture Palace music liveKaffee Burger / Berlin16th July 2013New Dates28th June 2013Picture Palace music liveDorfkirche / Qualitz24th June 2013New Dates8th December 2012"Saint Paul´s Cathedral Chorus Girl"added to our download-section-&gt SHOP2nd December 2012Merry Christmas and Ho Ho Ho !the new Picture Palace music Christmas-Tune"O come all ye faithful"320Kbps MP3 and 5.1-Surround AC3-Fileadded to our download section(-&gt shop)&"Indulge The Passion" - music for 7-word-influences & monetary capitals -320Kbps MP3added to our download section(-&gt shop)5th October 2012Picture Palace music live atAlternative-FestivalMecklenburg Vorpommern / Germany1st - 7th October 2012Picture Palac music Recording-Session & Rehearsal-WeekQualiz-ChurchQualitz / Germany27th September 2012Picture Palace music live atGoing Underground 2012 Award-ShowBabylon MitteBerlin / Germany17th September 2012new Live-DatePPm will perform at the "Goling Underground 2012" Award Showon 27th September 2012in Berlin / Germany10th September 2012Picture Palace music scored the "Going Underground 2012" Trailer18th August 2012Picture Palace musiclive at Swimmingpool-Festival 2012Day 217th August 2012Picture Palace musiclive at Swimmingpool-Festival 2012Day 19th June 2012www.swimmingpool-festival.comadded to our Linksection"Midsummer´s Day 2012" EM-Singleadded to our shop section9th May 2012"Indulge the Passion" CD added our Shop-Section28th AprilPicture Palace musiclive at E-Day-FestivalOirschot / The Netherlands6th April 2012"Indulge the Passion" - Section UpdateNew Concert-Dates20th March 2012"Indulge the Passion" - Section-Update13th March 2012Thank you very much !Schallwelle Award 2012 Best German Artist/Act:PICTURE PALACE MUSICCover addedIndulge the Passion-Section20th February 2012Picture Palace music will headline the E-Day-Festival (powered by Groove)on 28th April 20123Picture Palace music are nominated forBest German Artist/Band 2011&Best German Album 2011- thank you very much ! -12th January 2012Happy New Year !"Midsummer"added to our Download-Section-&gt ShopPPm - 2011:Award:Schallwelle Award : Best German ArtistCDs:Metropolis Poetry (Eastgate-Music)Electronic-Poetry-Tour-EP (PPm)Concerts:22nd July - Village Church - Qualitz - Germany19th August - Heimathafen Neukoelln - Berlin - Germany20th August - Teltow - Germany25th August - Loophole - Berlin - Germany3rd September - Dreieinigkeits-Church - Berlin - Germany (2x)23nd September Stadtbad Steglitz - Berlin - Germany24th September - Stadtbad Steglitz - Berlin - Germany1st October - Die Weberei - Electronic Circus Festival - Guetersloh - GermanySoundtracks:"GoingUnderground 2011" Trailer"Der Dutt" ShortmovieThank you for supporting us !16th December 2011"O Little Town of Bethlehem"added to ourDOWNLOAD-SECTION&added to"Next year, we may all be many miles away" Complete - DOWNLOADMerry Christmas !27th November 2011"Metropolis Poetry"Complete + Outtakes added to ourDOWNLOAD-SECTIONHomepage:Some Updates... some changes30th June 2011"Midsummer"&"Metropolis Poetry"Reviews added to our MEDIA-Sectionnew confirmed Livedate1st OctoberPPm will headline theElectronic Cirucs FestivalAlte WebereiGüterlohGermany28th June 2011"Metropolis Poetry"added to our SHOP-Section28th May 2011Metropolis Poetry- music inspired by Fritz Lang´s "Metropolis" -Released onEASTGATE-Music12th March 2011Schallwelle Award / BochumAward for Best Act NatationalNominated for Best Album National22th December 2010Ho Ho Ho !added"It came upon a midnight clear"&"Pois, Windmills and Butterflies"- music for juggling-tutorials & Maori-dancers -to our MP3 - Shop-SectionHappy Christmas and a very merry new year 2011!We think - this was a great year !Thank you for supporting us!- - -2010 - Retrospection:- - -CD Releases:"Fairy Marsh Districts""Midsummer"- - -Concerts:"Das Cabinet des Dr. Caligari"Silent Movie ConcertKino in der Kulturbrauerei - CinestarBerlin / Germany"Faust"Silent Movie ConcertBabylonBerlin / GermanySupport for "Levinhurst"ConcertMusic HallBerlin / Germany"Birthday Concert"ConcertKunsthaus - TachelesBerlin / Germany"The Railway-Concert"ConcertB3 Kulturbahnhof"Borgholzhausen / Germany"Fairy Marsh Districts"Headliner / Festival"Das Deutsche EM Festival"Burg SatzveySatzvey / Germany"Drowning someone's sorrow into the ocean"ConcertStadtbad SteglitzBerlin / Germany"Midsummer"Headliner / FestivalKostrinella-FestivalKostrzyn nad Odra / Poland"Indian Midsummer"Headliner / FestivalE-Live-FestivalTheater de EnckOirschot / The Netherlands"Indulge the Passion"ConcertDreieinigkeits-ChurchBerlin / Germany- - -DVD Soundtracks:"Kid Poi" (Poi instruction DVD)"Kid YoYo" (YoYo instruction DVD)- - -5th November 2010Indulge the Passion- music for Sound-Stones & Synthesizer"Live atDreieinigkeits-KircheBerlin 14th October 2010added "Midsummer"-CD to our Shopsectionupdate:DiscographieLineup-CompleteLineupLinksShopDatesCompendiumother Flyer9th October 2010NEW CD"MIDSUMMER"- music for sound divers & baptism-ceremonies -released at "Groove.NL"LiveconcertPicture Palace musicare headlining theE-Live-Festivalpowered by "Groove.nl"inOirschot (The Netherlands)3th September 2010new Concert-Date & CD-ReleasePicture Palace music will be headlining theE-Live-Festivalpowered by "Groove.nl"on9th October 2010inOirschot (The Netherlands)and the new CD"MIDSUMMER"will be released inOctober 20107th June 2010Concert"Midsummer Music"Kostrinella-FestivalKostrzyn nad OdraPoland15th May 2010Concert"Drowning one´s sorrows into the ocean"Stadtbad Steglitz- - -sorry ... we had to cancel"Metropolis"NO CONCERT on 29th May and 1st of June !30th April 2010Silent Movie ConcertF.W. Murnau´s"FAUST"Babylon / Berlin10th April 2010Picture Palace musicLive-Concert"THE German EM-Festival"Castle Satzvey / Satzvey-Mechernich9th April 2010Picture Palace musicLive-ConcertB3-Kulturbahnhof / Borgholzhausen7th April 2010new EP"Fairy Marsh Districts"added to our Shop and Download-SectionPicture Palace music placedNumber 4 : Best Album 2009&Number 5 : Best Artist/Band 2009at the "Schallwelle"-Award(Award for Electronic-Music)12th March 2010"REGENZEIT"(withThorsten "Q" Quaeschning, Kai Hanuschka, Vincent Nowak & Djirrefrom Picture Palace musicwill supporting"LEVINHURST"(withthe "Gothfather" LOL Tolhurt - ex-THE CURE,Michael Dempsey - ex-THE CURE, ex-ROXY MUSIC,Eric Bradley -ex-ALICE IN CHAINS, Jerry Cantrell, Young Royals&Cindy Levinson)Music Hall Berlin7th March 2010Silent-Movie-Concert"DAS CABINET DES DR. CALIGARI"Kino in der Kulturbrauerei / CinestarBerlin25th February 2010Special-Caligari Tiocket added to our Shop !!-&gt SHOP20th February 2010Flyer added to date-section-&gt Dates6th February 2010New Datessome changed !"compendium"added to the date-section-&gt DatesThorsten "Q" Quaeschningalong withGuitar-VirtuosoVincent deQuriamcomposed and played40 minutes of new musicfor aPoi-Instruction-DVD"Kid-poi"how to learn poi"byBlim-Productions28th January 20102010"Things that could happen" :CD releases:"METROPOLIS POETRY"- music inspired by Fritz Langs "Metropolis""FAIRY-MARSH-DISTRICTS"- music for sunken monasteries & castle moats -"DROWNING ONE´S SORROW´S INTO THE OCEAN"- music for sound divers & glaring red rubber boats - "CURRICULUM VITAE II"the B-side ones- music for points & frame components -"WINTERNACHT"- music inspired by Friedrich Mueller-s "Winterreise" -a special SAMPLING-CDSilent-Movie-Concerts:"Metropolis"- new, longer version-"Faust"-eine deutsche Volkssage-"Nosferatu"- eine Symphonie des Grauens-"Das Cabinet des Dr. Caligari"Concerts:Castle SatzveyTHE German EM-FestivalStadtbad Steglitz22nd December 2010 Please vote for Picture Palace music Artist & CD: "Natatorium"http://www.csaconnect.com/schallwelle-preis.de/Wahl/hoererwahl.htmMerry Christmas& thank you very much for your support in 2009 !18th December 2009new Christmassong"O Holy Night"Picture Palace musicfeat.Améthysteadded to our Download-Shop!asSingle-DownloadandPart of the"Next year, we may all be many miles away"-Complete- Download"Natatorium"- music for moonlight drives & swimming pools -released at SYNGATE!!!only the artwork differs to thePicture Palace music-Shop-Versionthat is STILL AVAILABLE!!!SAME MUSIC - SAME MASTERING - SAME SONGS!!!new concert-&gt Dates4th December 2009we´ve added"Going Underground 7"- music for subways & short movies -and"Wiedersehen"- music for short films & moral courage -to our download-section-&gt Shopnew reviews"Natatorium" & "Curriculum vitae I"-&gt Media -&gt Reviews3rd November 2009we´ve added"Nostalgia"-Heimweh- - music for Pictures and Sculptures - ,"three easter nights at the babylon"- music for bunnies & fallen capitals - , "Next year, we may all be many miles away"- music for the winter solstice - &Minory"Closer to the moon"to our download-sectionhave a wonderful pre-winter-time !3rd October 2009new Download-Section : "Strange Things (from the past)"-&gt Shop13th September 2009the "Going Underground8" Shortmovie-Festival(19th September 2009)is canceled !we are very sorry about it!31st August 2009"Natatorium"add to our MP3-Download-Section-&gt ShopPicture Palace music feat. Carsten-Stephan Count of Bothmerwill perform at the shortfim-festival"Going Underground8"-&gt Dates16th August 2009Thank you very much ...it was a fantastic concert !NEW PPm - CDr"Natatorium"(over 54 minutes)-&gt ShopNew Date-&gt Datesnew DownloadWalpurgisnacht & Auerbach´s Night Club-&gt ShopDiscographie Update-&gt About -&gt Discographie8th August 2009Picture Palace musiclive atStadtbad Steglitz31st July 2009Picture Palace music MAIN EVENT 2009(electronic-post-rock-Concert)8th Auguts 200921:00"Natatorium"- music for moonlight drives & swimming pools -Stadtbad SteglitzBergstrasse 9012169 BerlinGermany15€ / 10€PPm will play a concert in a drained"Art Nouveau style"architectured public baths.1. HalfAlmost 50 Minutes of new music composed for this special venue.2. Half"Best of" (approx. 80 Minutes)containing music from"Symphony for Vampires", "Somnambulistic Tunes", "Curriculum vitae I", "Poetry Metropolis", "Faust" ...LineUp:Thorsten "Q" Quaeschning - Synthesizer, LapsteelSascha Beator - SynthesizerVincent Nowak - DrumsThorsten Spiller - GuitarFelix Rueckert - DrumsDjirre : GuitarSusanna Sellin - SaxophonElisabeth Kietz - ClarinetChris Hausl - VocalsStoppel - Vocals3rd July 2009Shop-Update !and "Somnambulistic Tunes" MP3-Download-&gt SHOP29th June 2009NEW DOWNLOAD - SECTION !-&gt SHOPFirst"Symphony for Vampires"&"Symphony for Vampires" OUTTAKES2nd June 2009Release Date :11th June 2009"Curriculum vitae I"- music for compilation rates & personal data sheets -"EP-Compilationon Ricochet Dream29th May 2009Picture Palace music feat. Foreshadowinglive at "Titty Twister in der Kulturbrauerei"Tribute to Depeche Mode7th May 2009new titelframe !Picture Palace music PRODUCTIONHave a look ! New Dates:-&gt DatesPicture Palace music feat. ForeshadowingLive-ConcertSa 29th May 2009 20h"Tribute to Depeche Mode"8th August 2009 21hPicture Palace musicLive-Concert"Natatorium"- music for moonlight drives and swimming pools -1st half: NEW MUSIC ! Natatorium - music for moonlight drives & swimming pools2nd half: Best of "Symphony for Vampires", "Somnambulistic Tunes", "Metropolis Poetry" & "Faust"25th February 2009"...Another year overand a new one just begun..."Online again!new Reviews"Eclipsed"-Germany"Guts of Darkness" - France"Progressif" - Belgian"Jacob´s Tangerine Dream Blog" Denmark-&gt Medianew Videos"Sleep well - Elisabeth"-&gt Contact-&gt YouTubeplease vote for Picture Palace music -&gt indexnew song"Auld lang Syne"-&gt Contact -&gt MySpace&-&gt Media -&gt "Making of..."new Interview"Musikzirkus-Magazin"-Germany2009 "Things that could happen" :CD releases :"Curriculum vitae I"- music for compilation rates & personal data sheets -""Poetry Metropolis"- music inspired by Fritz Lang-s "Metropolis" -"Winternacht"- music inspired by Friedrich Mueller-s "Winterreise" -"Faust"- music inspired by Friedrich Wilhelm Murnaus "Faust - eine deutsche Volkssage"&a special Sampling-CD !!!Live-Premiere:"Berlin - Die Sinfonie der Großstadt"(Ruttmann - 1927)"Panzerkreuzer Potemkin"(Sergej Eisenstein - 1925)Special-Events:Going-Underground820th September 2008"Auerbachs Night Club"Live-Concert with dark visuals21:30hLast Cathedral"The legendary Horror-Rock-Bar"including music fromSomnambulistic Tunes (Das Cabinet des Dr. Caligari), Symphony for Vampires (Nosferatu), Faust, Metropolis, Nostalgia and strange coverversions!19th September 2008Silent-Movie-ConcertFriedrich Wilhelm MurnausFaust - eine deutsche Volkssage (1926)20hKino in der KulturbrauereiCinestar&first - pureELECTRO-SET22.30h"Auerbachs Keller"Keller des Cinestarkinos in der Kulturbrauerei"Faust" After-Show-PartyDJ MakX & DJ VeithDark-Electro-Wave-EBM-Synthpop-Classics!1st September 2008Picture Palace music - Weekend (19th & 20th September)Silent-Movie-ConcertFriedrich Wilhelm Murnau´s"FAUST"(1926)Friday 19th September20hKino in der Kulturbrauerei / Cinestar (Cinema)Elektro-Set"AUERBACH´S CELLAR"Aftershow-PartyFriday 19th September22.30hbasement ofKino in der Kulturbrauerei / Cinestar (Cinema)20th September21.30hSpecial-Live-Concert with visuals"AUERBACH´S NIGHT CLUB"including music fromSomnambulistic Tunes (Das Cabinet des Dr. Caligari), Symphony for Vampires (Nosferatu), Faust, Metropolis and strange coverversions!"The legendary Horror-Rock-Bar"Last CathedralThere will be a new Picture Palace music-EP"Auerbachs Nigth Club"- music for the lust generation & wine-cask-riders -MySpace-Music-Player-Update:The end of the end of everythingYou-Tube-Player-Update:PPm 09-200818th August 2008PPm will performa pureELECTRO-SETat the after-show party-&gt dates22nd July 2008new reviews-&gt media -&gt reviews8th July 2008Music of the moment June 2008added to our PPM-MySpace-Blog9th June 2008new "Symphony for Vampires" - Review-&gt Media -&gt Reviews5th June 2008newSilent Movie - Concert -dateFriedrich Wilhelm MurnausFaust - eine deutsche Volkssage (1926)-&gt Dates1st June 2008new "Symphony for Vampires" - Review-&gt Media -&gt Reviews27th May 2008Picture Palace musicwill perform 4 Songs at the"Tribute to Depeche Mode goes to Rock"Concert !-&gt Datesnew "Symphony for Vampires" - Review-&gt Media -&gt Reviews22nd May 2008"Array of fadin flowers"&"Scholomance Trance"added to our MySpace-PlayerMusic of the moment April 2008added to our PPM-MySpace-Blog"Mandrake Flight"added to (Vincent) "Quiram"(s) MySpace-Player30th April 2008"Symphony for Vampires"- music inspired by Friedrich Wilhelm Murnaus"Nosferatu - eine Symphonie des Grauens"Released on Manikin Records"Walpurgisnacht"- music for saints & witches -Webshop & Merch - Release"Walpurgisnacht"- music for saints & witches -Concert atBallhaus NaunystrBerlin/GermanyUpdate:Shop, About, Dicographie, News, etc. ...23rd April 2008We very happy to announce thatWolfram "der" Spyrawill join the "Walpurgisnacht"-Concert as the Supportact !25nd March20hF.W. Murnaus"Nosferatu - eine Symphony des Grauens"silent-movie-concertStummfilmkino Babylon/MitteRosa-Luxemburg Str 30Berlin/Mitte22nd March 200820hRobert Wienes"Das Cabinet des Dr. Caligari"silent-movie-concertStummfilmkino Babylon/MitteRosa-Luxemburg Str 30Berlin/Mitte21st March 2008Full-moon-concert19.30hFritz Langs"Metropolis"silent-movie-concertStummfilmkino Babylon/MitteRosa-Luxemburg Str 30Berlin/Mitte18th March 2008new date -&gt dates3rd March 2008Picture Palace music are currently working on a soundtrack for a shortfilm named "Wiedersehen"-&gt Media -&gt "Making of ..."BabylonFREE-Tickets for the top 2of our"Picture-Palace-music-MEMORY"-High-Score List(WE NEED YOUR E-MAIL ADRESS)-&gt Media -&gt "Games & Stuff"14th February 2008new dates -&gt "dates"9th February 2008new Dates !!-&gt "dates"Picture Palace musicsilent-movie-live-concerts"Die langen Schatten des deutschen FilmexpressionismusFestival vom 29.2 bis 27.3 im Stummfilmkino Babylon"Robert Wiene´s"Das Cabinet des Dr. Caligari"22nd March 2008Friedrich Wilhelm Murnau´s"Nosferatu - eine Symphonie des Grauens"25th March 2008update:"making of..." -&gt "media""links""dates"old flyer -&gt "dates""Lineup Complete" -&gt "about""about"6th February 2008shortfilmfestival"Going Underground 7"(Berlinale)20hPostbahnhof am OstbahnhofStrasse der Pariser Kommune 810243 Berlin31st January 2008newMaking of & Studio-Diary:Going Underground 7- music for short-films & underground railways --&gt Media-&gt Making of...25th January 2008Picture Palace musicwill perform the shortfilmfestival"Going Underground 7"(Berlinale)for a first first timePicture Palace music will be joined byCarsten-Stephan Graf v. Bothmer06 Feb 200820hPostbahnhof am OstbahnhofStrasse der Pariser Kommune 810243 BerlinGermanyKarten zum Preis von12 EUR + VVK (inklusive Buffett und Freigetränke)gibt es ab sofort an allen bekannten Vorverkaufsstellen12th January 2008New Dates!!!Thorsten Quaeschningwill play on the Namm Show17th, 18th, 19th & 20th January 2008Anaheim Convention CenterAnnaheim, CaliforniaUSAAnalogue Haven (Level 2, 210 Meeting Room D)Manikin Electronic : Memotron & Schrittmacher-Performance&Picture Palace music will perform a Shortfilm-Festival in Berlin-&gt Dates1st January 2008"...Another year overand a new one just begun..."2008 : "Things that could happen"CD releases :"Symphony for Vampires"- music inspired by Friedrich Wilhelm Murnau´s "Nosferatu""Poetry Metropolis"- music inspired by Fritz Lang´s "Metropolis" -"Winternacht"- music inspired by Friedrich Mueller´s "Winterreise" -Live-PremiereFriedrich Wilhelm MurnausFaust - eine deutsche Volkssage (1926)Special-Events:Going-Underground 720th December 2007We wish you a Merry Christmas;We wish you a Merry Christmas;We wish you a Merry Christmasand a Happy New Year.We added some christmas tunes on our MySpacr-Music-Player-&gt Media -&gt Picture Palace music Myspace1st December 2007Ho,Ho HoWe wish a you merry -merry christmas!the best part of the year ...We recorded a couple of christmas-songs for you!there will be a special-EP-Versionlimited to 24 CDRs (incl. CD-Text :) ) you can order this EP in the SHOP-Sectionevery CD will be signed by the Picture Palace music - Crew--New Review-&gt Media -&gt Reviews5th November 2007Hibernation till December 20072nd November 2007Picture Palace musicConcert0001001101111111!- music inspired byMetropolis,Faust,Das Cabinet des Dr. Caligari,Nostalgia,Return of the Light&NosferatuNationales KulturdenkmalStudentendorf Schlachtensee egClub A1825th October 2007New Pictures"Poetry Metropolis"-&gt Media -&gt Pictures"Music of the moment September -our privat playlists"added to PPM-My-Space-Blog15th September 2007new Dates2007-10-10 & 2007-11-02-&gt "Dates"Making of "Faust"Update & "Recording-Session-Files"-&gt "Media"1st September 2007We are still working on "Faust"Faust-Premiere on October, 5th 2007 is canceled!new date : December 2007new menu-structurenow"Media" includes the "Music"-Section&"Contact" includes the "Forum"-Sectionplease feel free to order your own "Picture-Palace-music-Newsletter"-&gt "Contact" -&gt "Newsletter"you´ll find "Games & Stuff" including the "Music of the moment"-My Space-Blog-&gt "Media" -&gt "Games & Stuff"new "Making of..."-&gt "Media" -&gt "Making of..."Faust""24th August 2007new "Somnambulsitic Tunes" Reviews -&gt Media20th August 2007new "Somnambulistic Tunes" Review -&gt Media12th August 2007new "Somnambulistic Tunes" Review -&gt Media25th July 2007New DateFriedrich Wilhelm MurnausFAUSTeine deutsche Volkssage(1926)20hOctober 2007Kino in der KulturbrauereiCinestarSchönhauser Allee 3610435 Berlin/GermanyTickets:+49/ 30/ 44 35 44 22more dates to follow...28th June 2007"Somnambulistic Tunes"- music inspired by Robert Wiene´s "Das Cabinet des Dr. Caligari" -RELEASED on Manikin Recordswww.manikin.de27th June 2007"Music of the moment April/May -our privat playlists"added to PPM-My-Space-Blog17th April 2007Picture Palace music´s birthday6th April 2007"Music of the moment March - our privat playlists"added to PPM-MySpace-Blog3rd April 2007New Pictures:"Return of the Light" - Rehearsal-Pictures @ Q-Studios (Berlin)-&gt Media -&gt Pictures16th March 2007New MP3 in our MySpace Player"The end of the end of everything"- music inspired by Friedrich Wilhelm Murnau´s "Nosferatu" -8th March2007"Music of the moment February our privat playlists"added to PPM-MySpace-Blog10th February2007"Music of the moment January - our privat playlists"added to PPM-MySpace-Blog4th January 2007"Music of the moment December - our privat playlists"added to PPM-MySpace-Blog3rd January 20072007 : "Things that could happen"CD releases :"Somnambulistic Tunes"- music inspired by Robert Wiene´s "Das Cabinet des Dr. Caligari" -"Exit Music"- music & songs for silent-movie credits -"Symphony for Vampirs"- music inspired by Friedrich Wilhelm Murnau´s "Nosferatu""Poetry Metropolis"- music inspired by Fritz Lang´s "Metropolis" -"Winternacht"- music inspired by Friedrich Mueller´s "Winterreise" -PremiereFriedrich Wilhelm MurnausFaust - eine deutsche Volkssage (1926)7th December 2006"Ebenezer´s Three Spirits"The 2003 Christmas-SessionMusic for purple christmas-trees & mulled-claret-parties!!! free download !!!-&gt Music4th December 2006"Music of the moment November - our privat playlists"added to PPM-MySpace-Blog4th November 2006"Music of the moment October - our privat playlists"added to PPM-MySpace-Blog13th October 2006New MP3s in our MySpace Playerincl. NEW TRACK:"Tangled Mass"(Edit-Version) - "Music inspired by Fritz Lang´s METROPOLIS"6th October 2006"Music of the moment September - our privat playlists"added to PPM-MySpace-Blog9th September 2006modern - sound -installation"Return of the Light"- music & pictures for cultural monuments -Nationales KulturdenkmalStudentendorf Schlachtensee 4th September 2006"Music of the moment August- our privat playlists"added to PPM-MySpace-Blog18th August 2006New Video !!!"Submerge in strip mining"- music for diving-movies -feat. "Metropolis Theme"( -&gt Media )8th August 2006New Concerts:December 2006Friedrich Wilhelm MurnausFaust - eine deutsche Volkssage (1926)New Video Collaboration:"Submerge in Strip mining"- Music for Diving-Movies -2nd August 2006Shop : PAYPAL1st August 2006"Music of the moment July 2006 - our privat playlists"added to PPM-MySpace-Blog13th July 2006New MP3s in our MySpace Playerincl. NEW TRACK:"Holding Office" - "Music inspired by Fritz Lang´s METROPOLIS"6th July 2006New Date :modern - sound -installation"Return of the Light"- music & pictures for cultural monuments -9th September 200621 hNationales KulturdenkmalStudentendorf Schlachtensee egWasgenstrasse 7514129 BerlinNew Pictures :"Return of the Light - Extracts"-&gt Media -&gt Pictures3rd July 2006"Music of the moment June 2006 - our privat playlists"added to PPM-MySpace-Blog30th June 2006New MP3-Files :"Sleep well, Elisabeth"&"Lilith´s Cradlesong"-&gt Musik -&gt Music inspired by Friedrich Wilhelm Murnau´s Nosferatu - eine Symphonie des GrauensUpdate:Musik -&gt Credits&Musik -&gt Media1st June 2006Picture Palace music on MY SPACE-&gt Forum26th May 2006new MP3 -&gt MUSIK -&gt Nosferatu:"Array of fadin´ flowers""The end of the end of everything"Picture Palace music on MY SPACE-&gt WIR:Lineup-Complete, Discographie & Media UPDATE18th May 2006NOSFERATU LIVE&MUSIC INSPIRED BY ROBERT WIENE´sDAS CABINET DES DR. CALIGARIRECORD RELEASE PARTY17th May 2006Radio Eins : Electrobeats mit Olaf ZimmermannPicture Palace music Interview und Kartenverlosung17th May 2006 23h (11 P.M.)&NEW LINEUP -&gt "Wir"11th May 2006Order your Nosferatu-Tickets !!!30th April 2006Radio Eins : Electrobeats mit Olaf ZimmermannPicture Palace music Interview und Kartenverlosung17th May 2006 23h (11 P.M.)&19th May 2006 1.00 (A.M.)TODAY24th Arpil 2006New Dates:18th May 200620hFriedrich Wilhelm Murnau´sNosferatueine Symphonie des Grauens&22hDas Cabinet des Dr. Caligari RECORD-RELEASE-PARTYKino in der KulturbrauereiSchoenhauser Allee 3610435 BerlinTickets :+49/30/44 35 44 22Lottery :FREE-Tickets for the top 3 of our "Picture-Palace-music-MEMORY" High-Score List(WE NEED YOUR E-MAIL ADRESS)Website :Project-Infos (-&gt Filme)18th Aprl 2006NEW MP3:-&gt MusikNostalgia,Morriña&Destructed -Live-17th April 2006Picture Palace music´s Birthday31st March 2006- modern - sound - installation -"Heimweh - Exhibition"Otto - Nagel - GalerieSeestrasse 4913347 Berlin22th March 2006new MP3 added(-&gt Musik -&gt Metropolis -&gt Parting)26th Feb 2006New Date:Picture Palace music- modern - sound - installation -31st March 200620h"Heimweh - Exhibition"Otto - Nagel - GalerieSeestrasse 4913347 Berlin25th Jan 2006New Dates:Picture Palace music Weekend5th - 7th May 2006Nosferatu Silent Movie Music Performance (Premiere) / music inspired by Robert Wiene´s "Das Cabinet de Dr. Caligari"cd-release & Silent Movie Music Performance /LiveconcertPicture Palace music - modern silent movie surround-sound live performance -Friedrich Wilhelm Murnau´sNosferatu (New Score)Premiere 5th May 200620hKino in der KulturbrauereiSchönhauser Allee 3610435 BerlinTickets : +49/ 30 / 44 35 44 22Robert Wiene´sDas Cabinet des Dr. Caligari6th May 200618hKino in der KulturbrauereiSchönhauser Allee 3610435 BerlinTickets : +49/ 30 / 44 35 44 22Picture Palace musicextracts from Nosferatu, Das Cabinet des Dr Caligari, Metropolis, Faust, etc. ...7th May 200611th Jan 2005Happy New Year ...New Shop in Feb 20062006 :PremiereFriedrich Wilhelm MurnausFaust - eine deutsche Volkssage (1926)Friedrich Wilhelm MurnausNosferatu - eine Symphonie des Grauens (1921/1922)(new score)ReproductionRobert WienesDas Cabinet des Dr. Caligari (1919)Fritz LangsMetropolis (1927)06th Dec 2005Frohe Weihnachten26th Nov 2005nächstes Stummfilmprojekt : Friedrich Wilhelm Murnau´sFaust - eine Deutsche Volkssagefür 2006 geplant25th Nov 2005Metropolis Premiere im Kino in der Kulturbrauereiin Quadrophonie23rd Nov 2005"Metropolis Theme" und "Poetry Metropolis" in der zweiten Elektrobeats-Stunde auf Radio Eins13rd Nov 2005Kartenverlosung bei Radio Eins - Electrobeats mit Olaf Zimmermann am 16. und 23.11.2005 23 Uhr11th Nov 2005Kartengewinnspiel unter Forum - Zeug - Memory & PuzzleTragt Euch bitte in die Highscoreliste einMusik-Sektion funktioniert jetzt!Zeug-Sektion funktioniert jetzt7th Oct 2005Neue Adresse :www.picture-palace-music.comNeue PPM - Vertonung :Metropolis am 25.11.05 im Cinestar / Kino in der Kulturbrauereiin QuadrophonieSchönhauser Allee 3610435 BerlinKarten u.a. unter : +49/ 30 / 44 35 44 22 17th April 2005Picture Palace music Geburtstag28th Mar 2005erste Picture Palace music - METROPOLIS Aufführungim Cinestar / Kino in der Kulturbrauereifür Oktober 2005 geplant !!!20th Mar 2005Picture Palace music im Cinestar / Kino in der Kulturbrauerei15th Mar 2005Picture Palace music Gewinnspiel...Für Alle - die bei Radio Eins,Tipp und Morgenpost keine Karten gewonnen habenschickt uns eine Mail an info@picture-palace.de !!!Wir verlosen noch einmal 2 Freikarten !!!14th Mar 2005Kino in der Kulturbarauerei / CinestarDas Cabinet des Dr. CaligariKarten (ca. 250 Stück) unter : 030/ 44 35 44 22oder an der Kinokasse17th Feb 2005Live-Concert9th Oct 2004Picture Palace music Live-Concert im Club A1819th Jun 2004Picture Palace music Live-Concert im Arcanoa22th May 2004Picture Palace music Live-Concert im Club A1817th April 2004Picture Palace music in den Bunker-Studios 04th Jan 2004Picture Palace music zweite Kurzfilmproduktion17th April 2003Picture Palace music erste Kurzfilmproduktion